Exceed 6-Way is Clinically Researched, a New Generation product that provides high levels of key ingredients for multi-level support in the following areas:
Joints
Gastric Support
Blood/Vascular
Hoof
Hair Coat
Digestion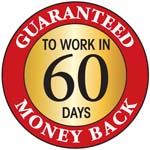 GUARANTEED TO WORK IN 60 DAYS OR YOUR MONEY BACK!
#BELOW RATING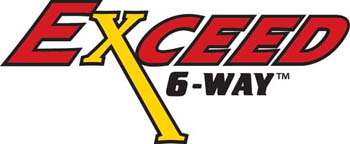 #LABEL/DIRECTIONS
#INGREDIENT GLOSSARY
Glucosamine is the building block of chondroitin sulfate, a specific type of polysulfide glycosaminoglycan (GAG), a small but complex molecule that plays an important role in the production and protection of joints. Glucosamine plays multiple roles within joint function and health. It helps increase the production of new GAGs and therefore new cartilage, has also been shown to help inhibit free radicals and enzymes that break down cartilage.
Hyaluronic Acid (HA) helps support healthy cartilage and joint fluid. Hyaluronic acid is what makes joint fluid "sticky" because it is known to protect cells in the joint, HA is especially useful during periods of high-level joint stress.
MSM: (Methylsulfonylmethane) Assists body to produce its own internal antioxidants which helps support natural inflammatory response by providing protection against oxidative stress. It is a great source of sulfur, which plays an important role in maintaining the health of collagen, cartilage, hooves, hair and joint fluid.
Collagen is the main structural protein found in the connective tissues of the body (skin, bones, cartilage, tendons, and ligaments). Hydrolyzed collagen protein (gelatin) is a modified form that has been broken down into smaller pieces making it easier to digest and absorb. Collagen and gelatin help support joint health, nourish bones and the tendons/ligaments surrounding them.
Magnesium (Mg) is a macro mineral that is frequently recommended for a wide range of equine health conditions. Magnesium helps to maintain normal muscle and nerve function, a healthy heart, healthy immune system and strong bones. Magnesium aids to regulate blood sugar levels, promotes normal blood pressure, and known to be involved in energy metabolism and protein synthesis. Since a symptom of magnesium deficiency is agitation or anxiety, it is included in many calming supplements.
Chondroitin Sulfate works synergistically with glucosamine in the production of new cartilage and inhibits the effects of various enzymes that breakdown cartilage. It also helps to support a natural inflammatory response lending to overall joint health and comfort.
Biotin is a member of the B vitamins family and, like some other vitamins, is a coenzyme for several metabolic pathways. It is involved in glucose metabolism, growth and utilization of niacin. Biotin helps aid in the growth of strong, healthy hooves due to its role in collagen formation. A number of research studies show that long-term, daily supplementation of 10-30 mg of biotin daily may help improve growth rate and hardness of hooves, especially in horses with less than optimum quality hoof horn (soft, brittle, chipped).
Yucca is an herb native to North and Central America used by ancient and modern civilizations to address musculoskeletal discomfort. Active ingredients have been isolated from Yucca that have shown to have antioxidant properties to help support natural inflammatory response.
Linolenic Acid (Omega-3): Omega-3s play an important role in supporting immune health, skin/coat health and in helping to support a healthy response to inflammation throughout the body. To help modify the inflammatory response of a horse's body to stimuli like exercise, the Omega 3 to 6 ratio needs to be kept in balance. Diets that contain a lot of grain or high Omega 6 oils like corn or sunflower oil may cause your horse's diet to contain more Omega 6 than Omega 3 fatty acids. The ideal ratio of omega 3s to omega 6s has not been formally established. It makes sense, however, to strive toward the ratio that naturally exists in grasses: three to four times more Omega 3 than Omega 6.
Linolenic Acid (Omega-6): Omega-6s are fatty acids that are responsible for the inflammation and immune responses in the body which are necessary to support injury recovery and combat infections. Omega 6 is just as important in the diet as Omega 3, they just need to be kept in balance with one another to support a healthy inflammation response.
L-Glutamine is the most abundant amino acid in the body, especially in muscle tissue. Glutamine is involved in more metabolic processes than any other amino acid. It helps support a natural inflammatory response within the GI Tract as well as a healthy immune system.
Mannanoligosaccharides (MOS) are prebiotics composed of complex carbohydrate molecules, derived from the outer cell wall of S. cerevisiae, whose main components, β-glucans (mannoproteins) are known to support immune function. Prebiotics are sources of non-digestible, soluble fiber that serve as food for the probiotics or "good" bugs in the large intestine.
Licorice is one of the most widely used herbs for people and animals in both Western and Chinese medicine. Sweet and soothing, it supports a natural inflammatory response in the gastric system. The deglycyrrhized form is preferred as it eliminates the risk of adverse side effects when plant is used whole.
Slippery Elm is obtained from the bark of a tree native to North America. Slippery Elm is rich in mucilage, a soluble fiber that becomes gel-like when wet. Helps to coat and soothe the mucosal membrane of the digestive tract.
DMG (Dimethylglycine) is a naturally occurring substance in the body and in many foods, but in low levels. Supplementing with this ingredient makes additional DMG available to cells throughout the body, where it is involved in energy production processes that use oxygen. DMG is used to help support muscle function, a healthy immune system, metabolism and serve as an antioxidant.
Vitamin C (Ascorbic Acid) is an antioxidant that plays a role in helping combat harmful free radicals. Vitamin C is an antioxidant that helps protect the tissues of the body and also important in the production of connective tissues like tendons and ligaments.
Zinc (Zn) is a micromineral involved in over 100 enzyme systems ranging from support of connective tissue formation and antioxidants to carbohydrate metabolism and immune system function. It is most recognized for its role in healthy skin and hooves.
Manganese is a micromineral that aids in bone formation, growth and reproduction. It also supports carbohydrate and fat metabolism. Supplementation should be considered because not all diets provide the same levels of manganese. It plays an important role in young growing horses as well as active performance horses.
Copper (Cu) is a micromineral that aids in the production of normal connective tissues including tendons, ligaments, cartilage and bone. As a component of many enzyme systems, it is also involved in making iron available to the body for blood, in producing skin and coat pigments, in proper nerve signaling and in repairing antioxidants.
Methionine is an amino acid that must be provided in the diet since the body cannot create enough of its own. This means if it is not present in adequate amounts it limits the body's ability to make protein. Methionine can be converted by the body into another sulfur-containing amino acid, cysteine. Because the concentration of both these amino acids is highest in hoof and hair, methionine is often included in hoof health supplements.
Lysine is an amino acid and the only one for which a requirement in the horse has been established by the NRC and used for the biosynthesis of proteins. This amino acid is often the key to improving protein availability and healthy muscle function.
Selenium is a trace mineral that along with vitamin E function together to help to protect body tissues from free radical damage that occurs during oxidation (the conversion of feedstuffs into energy). While some parts of the country have high levels of selenium in their soil and therefore the plants that grow there, selenium deficiency is not uncommon and reported in many states. Therefore, most horses may require supplementation to meet the NRC requirement of 1-3 mg/day, depending on activity level. *NRC upper safe limit approx. 20 mg/day in total diet.
Vitamin A is well known for its role in supporting healthy vision, immune function, and skin/coat. However, it is also needed for respiratory health, reproduction, soft tissue and normal skeletal development in young growing horses and exercising horses that are remodeling bone.
Vitamin D (Calciferol) plays an indirect role in bone growth and maintenance by managing the levels of calcium (Ca) in the body. It assists in the absorption of Ca from the intestine, the movement of Ca into and out of bone, and the amount of Ca excreted by the kidneys.
Vitamin E is considered the most important antioxidant and works closely with selenium to protect the body from the oxidative stress of exercise and illness. Found in high amounts in fresh pasture, levels begin to decay the moment pasture is cut for hay. That is why any horse that does not have access to grass, regardless of its activity level or health, would be a candidate for vitamin E supplementation. Horses are not very efficient in storing vitamin E and deficiency may be accelerated if the diet is deficient in selenium.
The Vitamin B family is made up of several compounds that support many important roles in the body: protein, fat and carbohydrate metabolism; energy production; proper nerve cell transmission, reproduction, and division (especially rapidly dividing ones such as red blood cells). B vitamins include thiamine (B1), riboflavin (B2), niacin (B3), pantothenic acid (B5), pyridoxine (B6), folic acid (B9), cyanocobalamin (B12), choline, biotin, inositol and others are sometimes referred to as B-vitamins. For most of the B-vitamins, microorganisms in the large intestine make all the horse needs. Only thiamine and riboflavin have NRC dietary requirements. However, research suggests B-vitamin supplementation may be beneficial to horses with little access to fresh pasture and/or during any periods of stress (training, injury, travel, etc.)
Active Dry Yeast: Supports enzyme activity for fiber digestion in the hind gut and provides a direct source of nutrients to nourish good bacteria. Stabilizes digestive flora during periods of stress for overall health and performance.
Probiotics are live microorganisms (bacteria and yeast) that help promote healthy digestive function and support a healthy immune system. Often referred to as 'good bugs' they help break down ingredients/contents that the body normally can't, and help inhibit 'bad bugs' from growing.
Prebiotics act as food for the probiotics or "good" bugs in the large intestine. Prebiotics help promote gastrointestinal health in turn supporting a natural immune response.
#FAQS
Do I need any additional supplements if I use Exceed 6-Way?
MVP: Exceed 6-Way provides joint, gastric, muscle, hoof, coat, and digestive health support in one supplement. Since Exceed 6-Way provides comprehensive support for many areas of the horse's health, using other supplements with similar types of support may not be necessary. Though for specific concerns such as gastric support, an additional product such as Gastro-Plex may be added for additional support without concerns of overlap.
When should I start my horse on Exceed 6-Way?
MVP: It's never too soon to prevent, though most users wait until the horse is at least of age to start riding.
Is there a loading dose? How long does an 8lb bag last?
MVP: No, a loading dose is not necessary. Serving size is 4 ounces daily. A 2 ounce scoop is included, so two scoops daily for a total of 4 ounces. The 8 lb bag will last for 32 days at that recommended serving size of 2 scoops per day.
Is this okay for a pregnant mare?
MVP: The safe use of this supplement in pregnant or lactating mares has not been specifically tested. We always recommend seeking your veterinarian's advice before adding any new supplements or making changes to your mare's diet.
Reviews
110% recommend!
You will not be disappointed! The absolute best product on the market!
Exceed 6 way
Want to boost your horses performance? Add Exceed 6 way! Incredible overall supplement that will keep your horse running strong

Add a Review